DRIBBLE
Dribble is a study of spatial sound behaviour during a basketball game in a sports hall, and focuses on the sounds of the basketball. It was inspired by basketball training observed at the Domus Atletica in Oslo. The graphic and sound design is similar to a "real-life" basketball training situation. The aim of the artwork is to interpret a complete interactive experience of the behaviour of simple sounds in space.
Dribble is also an experimental interface related to a software program for spatial sound composition that is still under development - Soundgarden. The interface was developed with the intention that it be completely intuitive and user friendly, and can be operated by anyone, with no experience necessary.
16 bouncing balls are located in the 3D virtual space. The visitor can change their positions in real time in order to set up his/her own spatial sound pattern.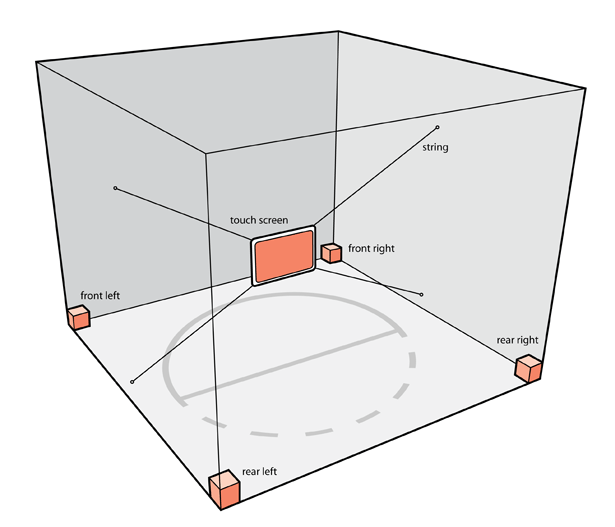 Technical description
The custom application is based on DirecX, Direct3D and DirectSound, and runs on a PC with a 3D graphic accelerator and a 3D gaming sound card (tested with Pentium IV 2.8 GHz, 512 MB RAM, GeForce4, Audigy2). The system is connected to a touch screen for easy manipulation, and to four active speakers an a subwoofer, for a spatial (quadrophonic) sonic experience. The room used for the installation should be square, approx. 5 x 5 meters. Sound isolation should be considered.

Screenshots:
Installation photo from Futura Gallery: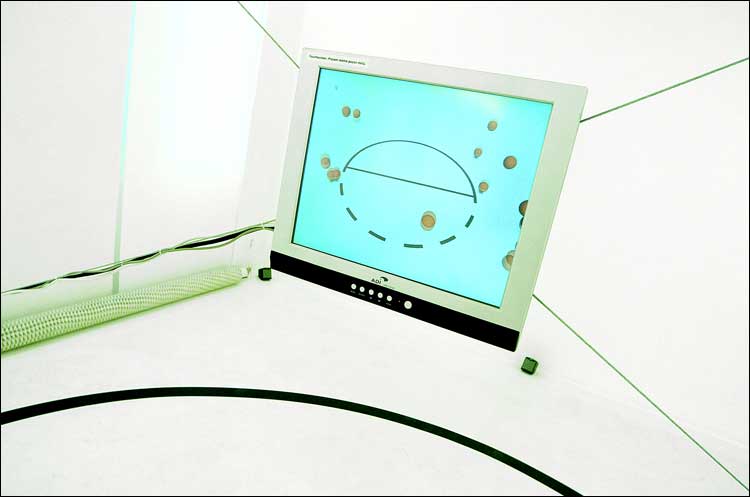 Video:


Sound samples:
sample_1.wav
sample_2.wav
sample_3.wav
sample_4.wav
sample_5.wav

sample_1.mp3
sample_2.mp3
sample_3.mp3
sample_4.mp3
sample_5.mp3

Hardware (installation):
PC, Pentium IV 2.8 GHz, 512 MB RAM, 40 GB HDD, GeForce 4, Audigy 2, Active sound speakers (4.1)

Software (installation):
Windows XP, custom software

Realization team:
Petr Svarovsky